Academic Program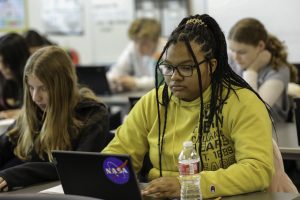 Program Guide
View our comprehensive list of course offerings available at Northfield for the upcoming 2023/2024 School Year, graduation requirements, college credit opportunities, and more.
Courses for College Credit
Visit the CDE website to find out how Advanced Placement (AP) and International Baccalaureate (IB) courses articulate as college credit at different Colorado colleges and universities.
Academic Program Overview
Building upon the traditions of the country's best high schools, Northfield High School offers a progressive and diverse academic program that allows for exploration of personal interests, an interdisciplinary approach, and collaboration among students in a supportive, personalized learning environment.
All students take core classes in Math, Science, Social Studies, and Language Arts; plus, a World Language (Spanish, French, or Mandarin Chinese), along with a variety of elective options. Please continue reading the Course Descriptions for more details.
Honors
At Northfield High School, we believe that effort and excellence should be recognized and celebrated. Honors designations can be achieved in all core academic classes. Our approach to honors designation for academic excellence in coursework embodies this principle. Students receive honors designations based on the level of challenge they take on and the level of mastery they achieve in each class. Honors is based not on placement, but on effort and accomplishment.
Curriculum and Pedagogy
Challenging, engaging, and rigorous coursework for all 9th and 10th graders to provide academic continuity and preparation for the IB Diploma Program curriculum in 11th and 12th grades.
International Baccalaureate Diploma Program coursework for all upperclassmen.
Interdisciplinary curriculum.
Guided-inquiry and project-based learning.
Learning
Performance-based assessments and student portfolios.
Use of technology and blended learning.
Experiential and service learning IB Access for All
Every student has access and the opportunity to pursue the International Baccalaureate® Diploma. All 11th and 12th grade core academic courses are IB. All 9th and 10th grade courses align to the IB curriculum pathways. This forms a rigorous college preparatory curriculum with a strong correlation to college success.
Use of Technology
Technology is embedded in all courses to support differentiation and academic interventions.
Interdisciplinary Coursework
Working in teams, teachers create interdisciplinary units and projects in all courses. This creates a unified learning experience for students and demonstrates the interconnectedness of knowledge.
Performance Assessments
End-of-unit and in-class assessments, projects, and exams require students to apply higher-order thinking and communication skills. These assessments demand creativity and application of knowledge in a variety of outcomes. Learn more information about P/SAT and NMSQT testing at Northfield. En Espanol aqui.