Transportation and Parking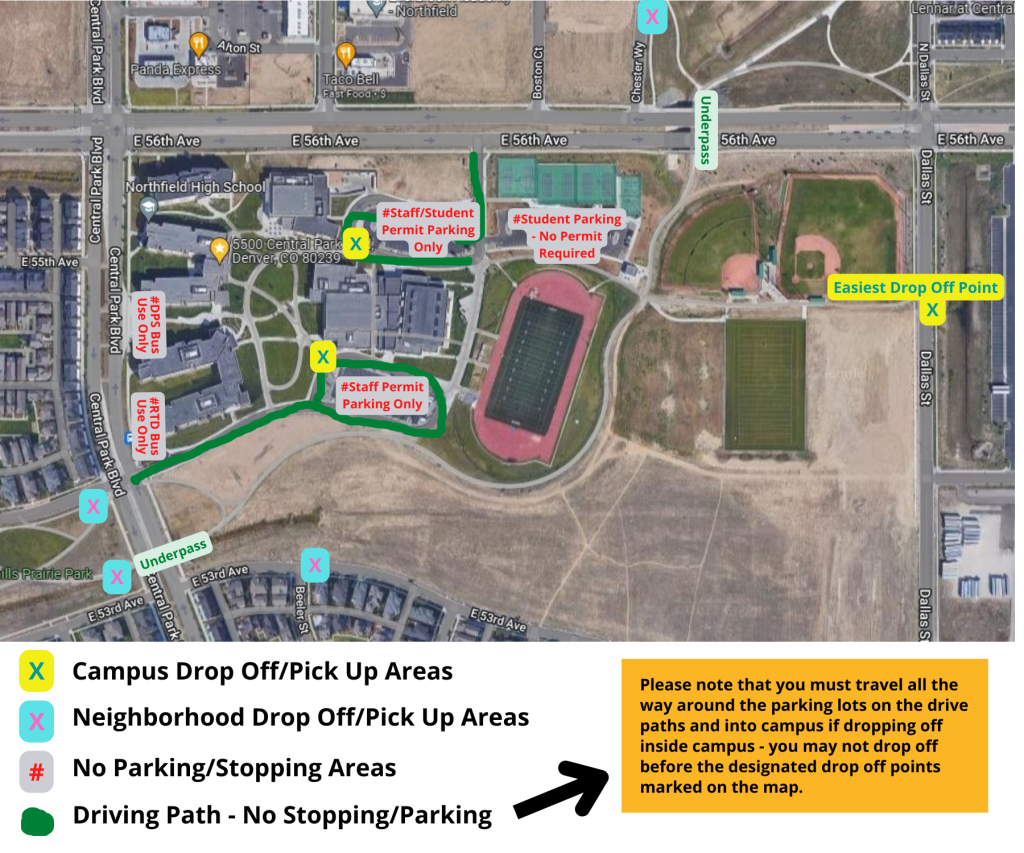 The use of carpools and public transportation is strongly recommended. To find a carpool, visit the NE Denver Carpool connection group on Facebook or Way to Go Schoolpool. Use the RTD Trip Planner to find bus transportation to Northfield. RTD now offers free bus and train rides for students as part of its Zero Fare for Youth pilot program; IDs are required to ride. No paper or digital tickets are provided during this pilot program. Note: Currently, RTD bus routes to campus follow last year's start and end times; RTD will vote next month to change or maintain.
Families who drive are encouraged to allow extra time for drop-off and pick-up, and to consider dropping off and picking up students on Dallas St. east of the athletic fields. Please pay close attention to speed limits, signs and pedestrians around campus – safety should be everyone's first priority.
Only seniors who have a Northfield parking permit are eligible to park in the campus parking lot between Buildings 1 and 3; those who participate in a carpool have first priority and will receive a pair of passes usable within one parking spot. Spots are available on a first come, first serve basis. The parking lot near the athletic complex is open to all students, with or without a parking permit, and on a first come, first serve basis. Only staff may park in the staff parking lot located on the south side of campus.
Student parking is limited to the north lots adjacent to 56th Ave. Students are not allowed to park in the faculty/staff lot off of 54th Ave. and Central Park Blvd. Student drivers who do not have an on-campus parking permit may park on surrounding neighborhood streets and are encouraged to obey all street signs, as well as to not block alleys, driveways or fire hydrants. To help enforce these guidelines, Northfield neighbors are encouraged to contact DPD to report parking violations.