Athletic Policies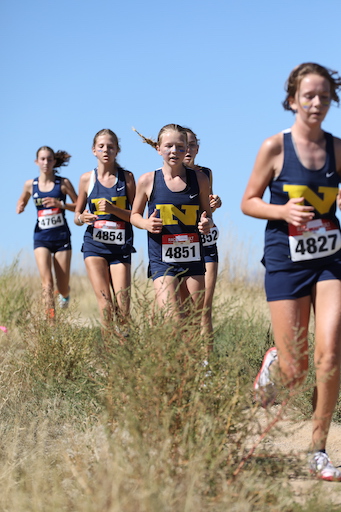 General Expectations
From the day a student first participates in a Denver Public Schools/Northfield High School sponsored athletic or activity, until that student graduates from high school, these rules are in effect throughout the school year, including weekend, vacations, and holidays, regardless if the student is on or off district property.
Students are representatives of themselves, fellow team members, coaches, sponsors, teachers, the school, its student body, and the Denver Public Schools/Northfield High School. For these reasons, the participating student is expected to display the highest form of character, behavior, and sportsmanship. If at any time, a student's actions bring harm or discredit to the organization of which the student is a member or to the school, the student may be subject to disciplinary action, including suspension and/or removal from the team/group.
Each student will conduct themself as a representative of Northfield High School, and will uphold the school's high standards. Students are responsible for picking up academic assignments in a timely fashion prior to any missed classes and for making up all assignments due to activity participation.
Use or possession of tobacco (smoking, chewing or snuff), use or possession of other harmful substances, or possession of narcotics or habit-forming drugs is forbidden. A student who violates any of these policies is subject to procedures put forth by CHSAA.
Eligibility
All athletes must meet CHSAA and DPS eligibility requirements.
Academic-eligibility is determined by a weekly check of grades. Certification period of ineligibility is Monday through Saturday of each week. Eligibility is determined by grades that are posted in Schoology at the end of the school day on Friday.
Students must be enrolled in a minimum of five classes to be eligible to compete.
Students with one F are ineligible to compete until that F is improved.
Students with two Fs at the end of day Friday are deemed ineligible for the following week (Monday to Saturday). 
Student grades should be changed only if one of the following conditions is met: 

A teacher has made a mistake and submits paperwork via email to the athletic director who must confirm the posted grade was inaccurate. 
If a student has an excused absence and makes up missed work within the school-approved guidelines for submission of that make up work. 

Specific semester, recertification and weekly grade details and requirements are available in the athletic coordinator's office. 
Athletes must attend a minimum of 50% of their academic schedule the day of a contest or the Friday before a Saturday contest, unless otherwise excused by the principal or their designee.
Athletes failing to do so are ineligible until reinstated by the athletic director or their designee. Unexcused absences may also result in the loss of playing time.
Activity Fees
Activity fees are charged to all freshman, sophomore, and junior students at Fall Registration. These fees help to cover the cost of class activities, class luncheons, dances, homecoming activities, instructional support programs, student travel, and reduced admission to certain school-related events. Fee assistance is available upon qualification.
DPS Policy Information
For detailed descriptions of DPS policies regarding attendance, conduct, discipline, health-safety, and interscholastic activities, please download the DPS Parent Handbook.
Colorado Revised Statutes, 22-33-102, provides that school districts establish policies for attendance. The DPS board policy JE directs that schools develop specific guidelines and policies around student attendance. Northfield aligns to district policies.